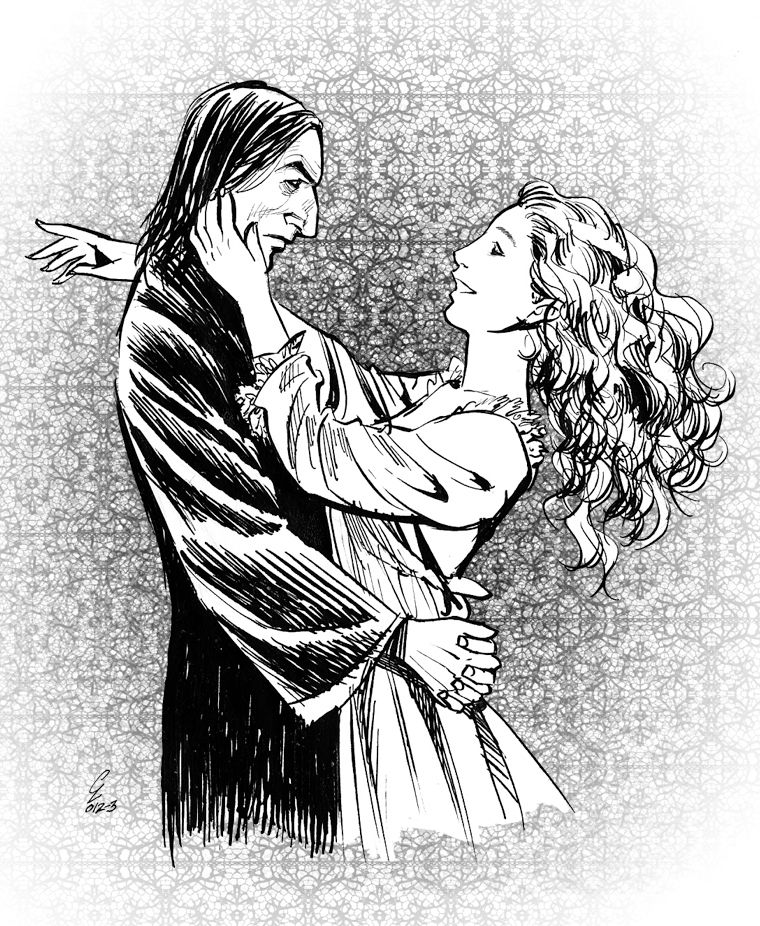 I have been planning this entry for so long! A happy Valentine day, everyone. Above is a new
(actually drawn in December)
fanart just for today's theme, which is: my very favourite SS/HG fics. I haven't been reading from the Exchange for ten days, now (sigh! sob!) because I'm reading
Les Misérables
and I know I'd never finish it if I continue with the Exchange now. I'm already 36% deep into this
terribly boring feuilleton
masterpiece that inspired the
much better
musical, and I want to finish it. Sooner than later, because it's simply too verbose and digressive.
So, back to my favourite SS/HG of all times. More or less in order of preference or times I've re-read them.
The Janus Thickey Ward
by
sophierom
The absolute masterpiece, IMHO. If I had to rec only one SS/HG to an unbeliever, it would probably be this.
Summary:
On the Janus Thickey Ward, Hermione learns that imperfection is good enough.
The Goddess of Never Being Broken
by
cathedralcarver
Summary:
The body never lies. The mind, however, is another matter.
Bad Days Are Going Around
by
cathedralcarver
Summary:
Finding your way there, and back again.
Pratical Solutions
by Aurette
Summary:
Hermione doesn't have time for a relationship, and Snape isn't interested in one. It's a good thing they're not having one...
The Marriage Benefit
by
miamadwyn
Summary:
It's all about the money.
Killing Time
by
lariopefic
Summary:
A coming-of-age story for a nearly forty year old man.
The Toil of the Just
by
sarablade
Summary:
Hidden in a cave, the remnants of Dumbledore's Army are fighting Voldemort and themselves, and losing on both fronts. Hermione's lost the key to her parents' memories to Bellatrix.
Preparation is the key
by
melisande88
Summary:
Snape requires a large sum of money, and a loan from Gringotts is the very last thing he wants, but there's nowhere else to turn. When the goblins assign Arithmancer Granger to monitor their investment full-time, sparks fly. Hermione uncovers much more than potions work at Spinner's End. There are troublesome buttons and an even more troublesome journal. The only one who seems to know what's going on is the cat, and she's not telling.
Love, Carefully Folded
by
dressagegrrrl
Summary:
Why does Hermione keep ending up naked in bed with Snape?
The Mysterious Miss Granger
by
duniazade
Summary:
It was a good enough life, until this strange girl turned up.
Brewing Desire
by
irishredlass
Summary:
For reasons known to none Snape accepts Hermione as an Apprentice. A to become a full Potions mistress she must learn the history of Potions and the sometimes dark practices behind modern day potions.
Solace
by northangel27/
lilyevans_snape
NorthAngel has repeatedly cancelled her fics from the web, and this is the only link I can find now. Grab before it's gone!
The Essence of Sunset
by
shefa
Summary:
My chambers are dark, lit only by the glow of the midnight moon. The castle creaks with rawness of stone and antiquity of magic, filled with the power welling up from beneath the mountain and the fire of intention fuelled by our four vibrant streams of magic, combined. It is nearly impossible to recognise this expanse of land from just six months ago: pristine grasses as far as the eye could see, cresting on a tidal wave of green, the shadow of grey stone a skeleton underneath. A spider's web holding together an enterprise that, tonight, feels like folly. I had expected to feel exultant.
I Am Not a Goldfish
by
cathedralcarver
Summary:
Of impertinence, insomnia and the loneliest ones.
The Ethernet Chronicles
by
pythia_delphi
Summary:
Post Vold-War II, the Wizarding World has adopted a new-fangled notion: blogging!
The Traveller
by
somigliana
Summary:
Hermione has deviated from an obvious life. She has moved down a challenging and divergent, but ultimately lonely, path. She meets Severus Snape by chance one day, and she has some difficult choices to make.
Curtain
by
therealsnape
Summary:
An outrageous tale in which Severus isn't dead, and Hermione isn't going to marry Ron nor work for the Ministry. Instead, Post-Battle Hogwarts needs money for rebuilding, and one of the fundraising projects is a Hogwarts Calendar. A tragi-comedy in five scenes and some interludes, with a supporting role for Minerva.
Gentleman, Alone
by
femmequixotic
Summary:
Severus still thinks he should have died that night. He's yet to figure out why the universe seems not to have agreed.
Owned
by
subversa
– Unfortunately, a WIP since 2011, and it seems unlikely that the author will complete it.
Summary:
War is hell, and the aftermath is often the most hellish part of all. Having lost everyone she most loves, Hermione Granger is only a shell of the woman she had been. Devastated by loss and guilt, Hermione draws the attention of Severus Snape with a random utterance.
Favourites from the current exchange (still anonymous):
Arithmantic Equations as a Second Language
Summary:
Missing memories, alternate futures, and the ancient power of Arithmancy combine as Hermione Granger promises Severus Snape that she is coming to save him.
Already considered a classic, this was one of the first fics posted and remains the very highlight of the Exchange so far.
Unconventional Therapies
Summary:
After several near-death encounters, Severus Snape discovers he cannot die. The only one who believes him, however, is his fellow psychiatric ward inmate, Hermione Granger.
More Things in Heaven and Earth
Summary:
There were few things that Hermione Granger would not do for a chance to view the book collection of the late treasure hunter and philanthropist Begonia Madden. She was even prepared to accompany the habitually surly Professor Snape on an overnight trip to the Highlands. Really, how awful could it possibly be?
Third Time by Thestral
Summary:
The marriage had only one condition: that she never look at him during lovemaking. When Hermione sees Snape in the night, she violates the terms and drives him away. She must complete three tasks and travel to the land of the dead in order to win back her beloved.
The Anatomy of True Friendship
Summary:
For the first time in Severus Snape's life, he actually has the girl. Now, all he has to do is figure out if he truly wants to keep her.
No Vacation Goes Unpunished
Summary:
Hermione has to speak at a conference. Severus decides to go with her and make it a family vacation.
Summer School (for the Romantically Challenged)
Summary:
Dear Severus, Following our recent conversation, I am writing to confirm that you have agreed to take part in our new Summer Extension Programme at school. Working as part of a team with school staff and visiting professors, you will be partly responsible for the delivery of 'Perfect Your Potion Making!' a challenging and inspiring course for adult learners.
No Dominion Greater
Summary:
Something is wrong with Hermione. Very wrong. Will Harry be able to convince Severus that she is worth saving, despite their rocky past? If he doesn't it may mean the end of them all.
All Shadows Pass Away
Summary:
When Severus hides himself away beyond all reach, how far will Hermione go to bring her heart's desire back home?
Current Mood:

mellow