It's been over a year since I joined livejournal, and I think it's time to write a list of my fics and fanarts created for lj-related occasions (exchanges, fests, etc.)
Current Mood:

hopeful
sshg_exchange
. I missed I don't know how many posts by so many people who, I'm sure, don't remember about me anymore.
So what have I done? I've been working. Overworking, probably, since that's the way I end up doing things. But it doesn't matter, since the work is finally published. Online. For free. Please go and read it.
The Endling
is a fabulous story. I wish it could create a fandom by itself.
I know. I haven't been on lj for months. I'm completely out of fandom. I missed the end of the
Current Mood:

excited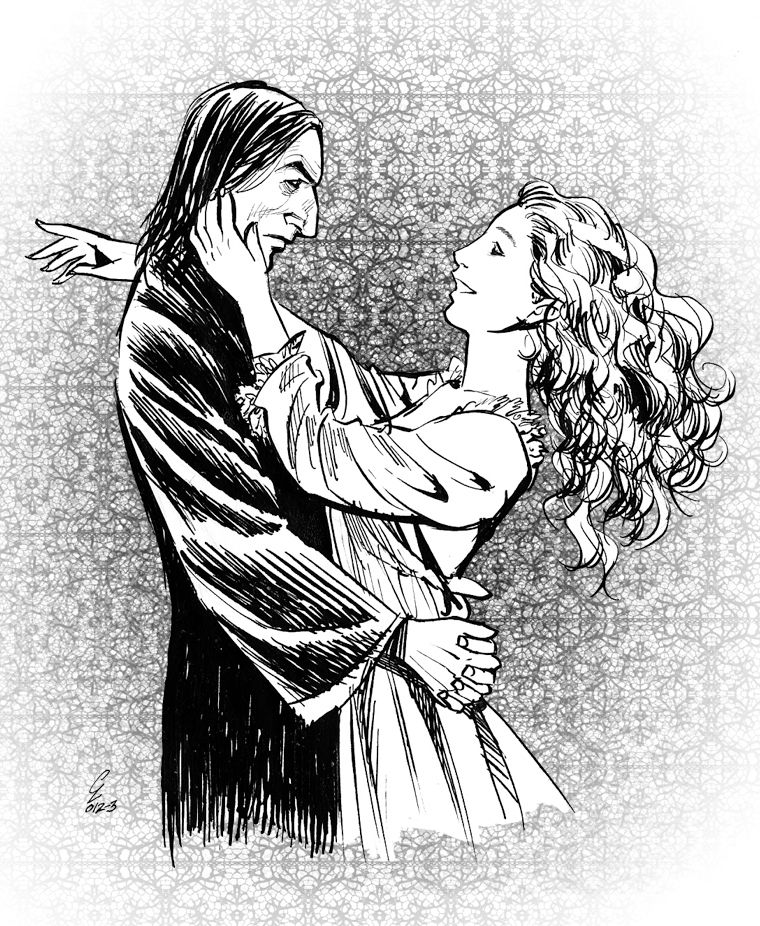 I have been planning this entry for so long! A happy Valentine day, everyone. Above is a new
(actually drawn in December)
fanart just for today's theme, which is: my very favourite SS/HG fics. I haven't been reading from the Exchange for ten days, now (sigh! sob!) because I'm reading
Les Misérables
and I know I'd never finish it if I continue with the Exchange now. I'm already 36% deep into this
terribly boring feuilleton
masterpiece that inspired the
much better
musical, and I want to finish it. Sooner than later, because it's simply too verbose and digressive.
So, back to my favourite SS/HG of all times. More or less in order of preference or times I've re-read them.
The Janus Thickey Ward
by
sophierom
The absolute masterpiece, IMHO. If I had to rec only one SS/HG to an unbeliever, it would probably be this.
Summary:
On the Janus Thickey Ward, Hermione learns that imperfection is good enough.
(
Favourite SS/HG of all time
Collapse
)
Favourites from the current exchange (still anonymous):
(
faves from current exchange
Collapse
)
Current Mood:

mellow
This is the single most important day in Ricardian history since Richard's death in 1485. 528 years later, a skeleton found in a car park in Leicester has been positively identified with Richard's. A digital reconstruction of his face should be made available this evening.
The skeleton was found months ago after a very long research (you can read more about it
here
) and all along the RIII Society has been busy with hypothesis, questions and hopes.
As you can see from the picture, we have now the proof that he suffered indeed from a severe scoliosis (a bit different from a hump, but indeed, his shoulders were uneven) and although he was 1.72 metres tall, he looked shorter. The researchers also commented that "Individual had unusually slender, almost feminine, build for a man".
The nicest thing today was the amount of friends who contacted me to share the news. <3
Current Mood:

excited
So I finally went to see Les Misérables (out in cinemas only since Thursday here in Italy.)
Advanced Contemporary Potion Making
by
lariopefic
. And if you have already read it, you'll know what I mean by courage.
I'd love to make some recs from the
sshg_exchange
- hopefully I'll find time over the weekend.
I just wanted to drop a line to say that, somehow, I found the courage to re-read
Current Mood:

melancholy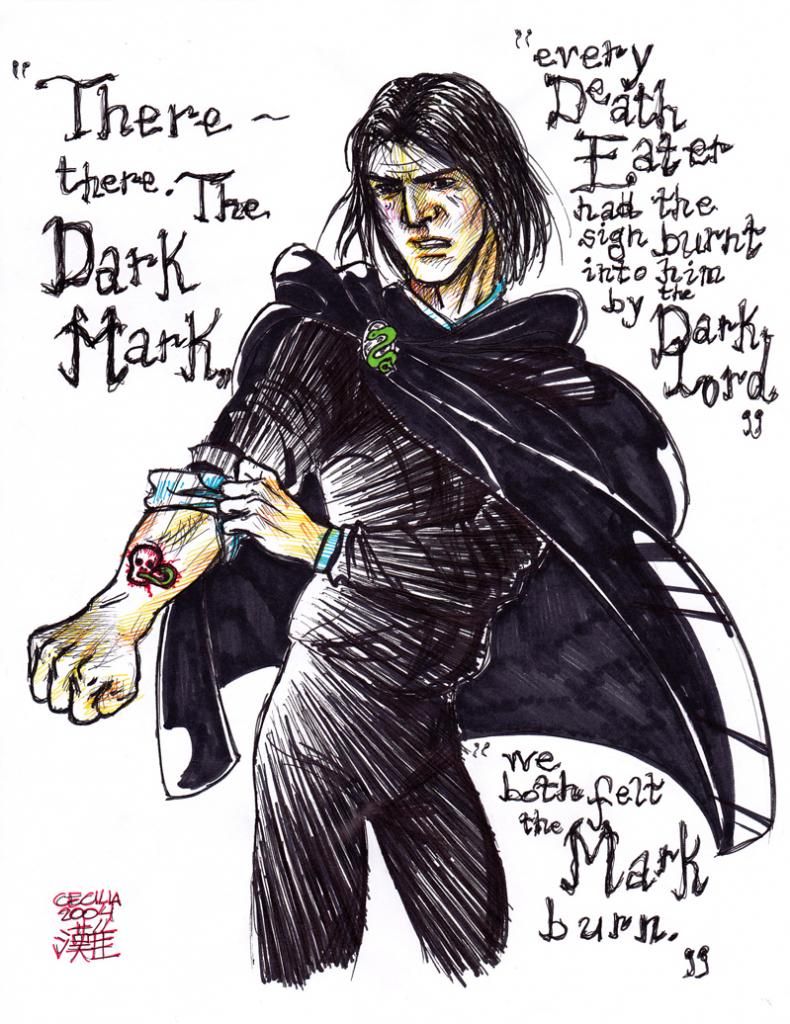 My first ever Snape fanart, dated 2004. Which is telling, because my other HP fanarts are dated from 2001, the year when I started reading HP. But my first reading of HP was a very canon one, and my fanarts reflected that: they are mostly of HRH, the Weasley family, McGonagall, Fluffy, the Mirror of Erised... I actually started noticing Snape only with the scene depicted above, as I found the previous present-a-character-in-a-ebil-way-while-h
e's-not-truly-ebil-for-three-times-in-a-r
ow quite uninteresting.
And of course, the first fanart I do, I mistake the Dark Mark's arm. Le sigh.
Happy Severus birthday, everywhere.
Current Mood:

working
I'm working on four (4) projects at the moment, and I'm very late with almost all of them.
I'm behind with every kind of reading I should/would be doing.
The only thing that
keeps me procrastinating
catches my attention, these days, are cosmetics tutorials. I'm reading about eco-bio make-up and treatments, and learning that I put silicon on my face and hair for years. Yesterday I bought some almond oil, and this afternoon I made my first hair application of almond oil. Apparently, they look more shiny.
And I'm eagerly waiting for Les Mis - January 31 here in Italy!! I'm listening to my Original Cast cd in loop. And also watched the 10th Anniversary concert twice in a week. Oh, how I love Philip Quast. And the terrible thing is that I love Javert, and Russel Crowe is one of my less-favourite actors (I think he looks stupid.) How can I suffer Javert to be played by Crowe? Please tell me that he's tolerable. I want to be moved when he sings Stars.
Since I'm late reading (have I said it?), so I offer you two art fics today. The first is by a
very Mysterious Artist
who deceives none, and it's maybe the most wonderful Snupin fanart I've ever seen. Ladies and gentlemen, here is
The Rug
, drawn after a prompt by
shiv5468
. The second is the closing entry of
deeply_horrible
, and it's again a reflection on Snupin and fandom:
The Deeply Horrible One(s)
, whose artist won't fool anybody (again.)
I'm finding trends also in the fics I'm reading: two already were about how Filch got Mrs. Norris, some three about people who question Snape's alleged Death-Eaterness during his year as Headmaster, some two or three more featured Aberforth as main character/lover... (I don't think I've ever read about Aberforth before.) I wonder how and why such trends begin!
Last thing: do you know perhaps how to modify the journal's template, giving that I have only a free account? I know nothing of CSS and almost nothing of html. I just wish to have a very simple template where to place an image as header. Thanks!
I am behind with everything.
Current Mood:

productive
New Year's Eve is hardly my favourite time during the holidays; I'd prefer that people didn't make all this fuss about it, with the forced hate for the previous year, the injected glee for the upcoming year, the firecrackers (hate), the after-midnight parties out in the cold, etc, etc. Ah, and the President's speech that I'm obliged to listen to every year, and the countdown I'm supposed to look to, and the midnight toast (I don't like sparkling wine)... In short, I don't like it.
But some people do, so I wish them a good New Year. Or good enough.
I've found among my files this
highly significative
sketch I've done for a friend as a beta, and I thought that I could share it with you so you might appreciate my skillz with a tablet. Potter is appropriately disgusted.
As for fests, I'm proud to tell you that I've read and commented every single entry of
deeply_horrible
so far (except my own), and that I feel a kind of Eminence grise behind its fanarts, as I've betaed... five, I think, art entries so far (wooot!). On the other hand, I'm three fics behind in
hoggywartyxmas
, despite my will, as I'm working these days (apart from watching make-up tutorials on Youtube.) But here is a small selection of the fics I loved best of lately:
-
St. Mungo's Grim Reaper
fro
deeply_horrible
, an outstanding reading with a greatly ambiguous Snape, set during the First Voldemort War;
(and the rest from
hoggywartyxmas
):
-
Hopeless
, a great portrait of Millicent Bulstrode that I wish was canon;
-
Humbug
, a revisitation of
A Christmas Carol
featuring an extra-perceptive Filius (GO RAVENCLAWS!!);
-
Leaf by Leaf
(Irma Pince/Aberforth Dumbledore), of which I'll quote the beginning:
(
cut for quote
Collapse
)
-
Lost and Found
, an heart-warming story featuring
Argus Filch, Hoggywartians, a cat
;
-
The Incomplete Art of Cartography
, three insightful vignettes about Minerva, Horace and Remus, and three Hogwarts places that aren't on a map;
and
Fallen Lances
, a chronicle of Minerva's days as an Auror, featuring an impressive Rufus Scrimgeour.
And with that I've recced more than half the fics published so far, I think! Happy reading!
Ehrm.
Current Mood:

grumpy
(
pics under the cut
Collapse
)
hoggywartyxmas
started two days ago and I'm already two fics behind (boohooh me.) My favourite fic so far has been the most sweet tale about Argus Filch and Mrs Norris,
Lost and Found
, maybe because I'm partial to heart-warming stories about cats.
I'm also trying (in vain, I know) to catch up with the Exchange (which one, you ask? There's only ONE
E
xchange with capitals) and I spent two days drowing in a totally different kind of fic, featuring the most Dark!Hermione I've ever met. Ladies and gentlemen, this is
No Dominion Greater.
If you want something strong to compensate the fluffiness of Christmas times, I can't rec you a better and more original fic today.
I'm also musing about making a list of my favourites SS/HG of all time... But I usually spend more time planning my posts than actually writing them.
Oh, and
In Absentia
is finished if you want to give a look. No more tuff ochre for a while, hopefully. I arrived here chez Granda forgetting my Intuos 3 pen, and had to buy a Bamboo on the spot to finish colouring. There's no comparison between the two tablets. Cheers!
A little picspam to wish you a very merry Christmas!
Current Mood:

cheerful